Jim Lill's
1986 Peugeot 505 Turbo (N9TE) Sedan
Upgrade and Maintenance Logbook
---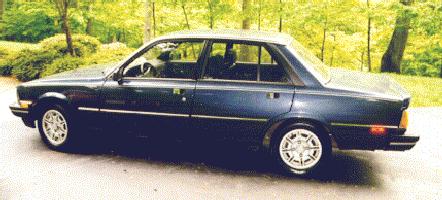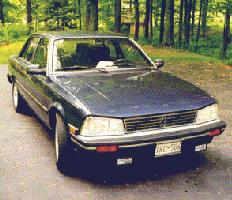 Manufactured 7/85, VIN VF3BA7165GS3938xx
As Purchased on 12 June 1998 from original owner with 118,350 miles
Color: Delft Blue
---
Log of Work and Modifications since Purchase:

13 June
19 June

replace valve cover gasket using Felpro which is better than factory
massive engine degreasing with intercooler and brackets removed. Plugging intake tract and covering of distributor only precaution, instant start. Cleaners etc. used:

spray-on/hose-off engine cleaner
Kärcher 1150 psi pressure washer
brake cleaner
Klean-Strip-Green cleaning solvent
citrus degreaser

install Bosch W7DTC triple-electrode spark plugs
clean intake tract, air flow meter, and throttle body
replace rotted element with Beck/Arnley 042-1502 air cleaner element
smoother idle now noted
lube front brake caliper slide points
§ install 87-89 style 8-spoke alloy wheels
install Nokia NRH 205R60-15 tires (one old tire had cord showing)


20 June

replace sticky e-flasher dash switch with one from 89 405, noted better construction
§ install Euro headlamps with 55/50W H4 bulbs

23 June

started install of VDO gauges in place of ashtray and coin box, with 0-120 degC (310 080) gauge switchable for air-temp pre/post intercooler and water-temp, intercooler. 0-5 bar (350 080) gauge switchable for fuel/oil pressure

26 June

inspected rear calipers, greased sliding surfaces
installed new in-tank pump, main pump now quiet (VW Pierburg 7.21088.52)
degreased entire undercarriage

6 July

started install of VDO boost gauge (150 061) in place of left-center A/C vent

10 July
11-12 July

power lock system fails, locked out, contacted last owner, advised how to jumper at ECU to regain access

17 July

repaired power locks by cleaning and lubing driver door lock mechanism (wasn't the power parts!)

2-3 August

new or newly discovered oil-leak at front of motor
leak mysteriously disappeared next day, much the same as it appeared!

7 August (120,000 miles)

oil leak ID'd, valve cover again. Need to check bolts or ?
‡another split vacuum hose, started silicone hose install (source info)

9 August

vacuum gauge now functional, idle=16inHG max boost=8 psi (factory rated at 620 mbars/8.99 psi)

14 August

retorqued valve cover and discovered oil leak out filler neck. Need new gasket on cap or need to reinstall the foam in the valve-cover that was gone when I got car
‡ installed Magnecor 8mm spark plug wires (source info)
designated engine as my own type N9TEX as it is now starting to drift from stock

28 August

§ install Momo Monte Carlo steering wheel using 6807 adapter

started revised gauge installation, now under radio

3-6 September

§ installed 89 rear spoiler
§ re-badged as 505 GTI (Euro badge, p/n 8660.65)

re-balance front tires
‡ add Redline Water-Wetter to cooling system
removed Momo wheel, need spacer for better hand-clearance to stalks
massive interior clean-up and polish exterior

more pictures, click on description to view...

15 September

‡ finished gauge install (radio removed)


19 September

† installed Schroth harnessbelt



23-25 September

alternator noisy then failed to charge, replaced with Beck/Arnley rebuilt unit

27 September

caught in hail storm, all horizontal surfaces dented, not severely!

3 October

realized inadequancy of brakes for hard driving during a Road Rally. Revision of Front calipers under consideration

23 October (121,000 miles)

discovered weeping on radiator

7 December 98

off the road for the winter and to start engine work

March 99

started engine work by removing intake system
ordered parts for another variant of exhaust, will weld/build my own from scratch

April 99

progress stalled, going to remove A/C, reassemble engine and put back on road
removed belt-driven fan
started installation of Griffin Aluminum Radiator
started installation of Perma-cool dual fluid cooler for engine oil and intercooler water
started relocation of battery to trunk

August 99

progress still largely stalled, summer progress:
modified ZDJL hub to fit N9T waterpump
installed hub and ZDJL pulley on pump
‡ received lowering springs (source info)
SS exhaust at welders

The Future... [click here]
---
Legend:

Required Repair
Optional Upgrade
‡ Performance Mod
† Safety Mod
§ Appearance Mod
× Item in my possession

Page last updated 30 August 99

Links:
---
Another fast 505 Turbo!